Submitted by Keith Olesen
In 1987 the Anaheim Halloween Parade once again came close to disappearing because of a lack of financial support for the then 60+ year old tradition. Earlier that year a group of downtown residents formed the Anaheim Neighborhood Association as a means to more effectively address issues we saw as threatening to our downtown neighborhoods. The more involved we got the more we realized that there was a lot more to improving and preserving our historic neighborhoods and quality of life of residents than just "fighting city hall". You could fight, and even win sometimes, but to have a lasting positive impact residents got involved in non-political community, neighborhood, and city-wide activities. One of the first of those was the Anaheim Halloween Parade.
In October, 1987 we found out the Halloween Parade might not happen that year because they didn't have the $13,000 for the insurance required by the city.  Eventually the city agreed to fund half the amount and loan the parade the other half. Ok, the parade was going to happen, but the loan still had to be repaid. We submitted the attached letter to the editor of the Anaheim Bulletin, then a stand-alone newspaper and the main source of local, city related news, to bring attention to the problem and to hopefully be part of the solution.
ANA donated $500 to the parade and made a "challenge" to other neighborhood groups and local businesses to match it. The Bulletin published the letter in the October 22 paper, along with an editorial of their own accepting the challenge, matching the $500 donation, and encouraging others to do the same.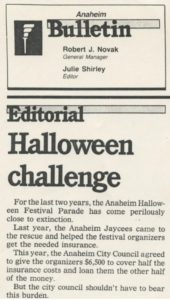 Since I was not part of the group who was putting on the parade in those days I have no idea what amount was finally raised, but I assume that through this and other fundraising efforts enough was raised to pay off the loan and allow the parade to continue. Amazingly (or maybe not), as we approach the 100th anniversary of the parade, some of the same people from that era are now again involved in the Anaheim Halloween Parade and one of the biggest challenges is, you guessed it, raising money to fund the Anaheim Fall Festival and Halloween Parade.
Luckily today the parade has enormous support from residents, businesses (both large and small), as well as the City of Anaheim and has become one of the largest, most popular community events in the city. Hopefully that will continue to the 100th Anniversary and far beyond.